We came armed and ready for our first Warrenton Blog Party.
Armed with cookies, and ready to meet some other fellow bloggers and vintage lovin' gals.
So after our day of shopping, laughing, and visiting with Amy Boland and her funny mom, we headed back to Theresa's booth outside Zapp Hall to meet some other gals who do what we love to do!
Theresa's tents are always so beautifully arranged. Her ability to gather and arrange and tell stories is amazing. We only took a couple of pictures, but here's a peek at Theresa's tent.
See what we mean? And Theresa is especially talented with white. Her White Wednesday blog posts are always so beautiful to see. She finds white everywhere and snags pictures for inspiration.

Here was a very talented, creative, and totally
fun group that joined us at the blog party Sunday night. Such sweet ladies all around us! A few from Texas, and several that flew in from other parts of the country. They came because this twice-a-year Warrenton Antiques Week is THAT good.
You'll never guess who we got to meet at the party . . .
LOOK! We even begged them for a quick snapshot!
See! It's us with Lisa Love Harris and her Sweet Girl! Don't you L♥VE her name! Lisa is a writer and the creative talent behind The Garden Cat.
There was just something about Lisa that drew us in. Then we figured it out. Although she and Sweet Girl had flown down for the show from the Pacific NW, turns out they are native Texans! Their poor family is enduring a transplant until they can return to starry skies, bluebonnets and home on the range.
This mother-daughter duo told us they have more fun junkin' than anything else. Sweet Girl passed up a trip to Disneyland to come join her mom junkin' in Texas! We learned we had lots in common, shared mutual faith in Jesus, and knew we'd found great new friends.
Suzanne couldn't help but mention
a few kind words about an amazing University in College Station for Lisa to share with her son who is deciding on which college to attend. You'll be hearing more about Lisa and The Garden Cat from us girls!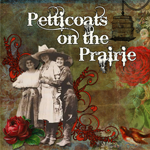 We also enjoyed Janie Conley from Petticoats on the Prairie. She and some Rodeo Queens in West Texas just hosted their second successful sale out on a great ranch in west Texas. Janie was a super encourager and so excited to meet fellow bloggers and antique lovers.
Our November Barn Sale is very similar to their show, so we had lots to talk about. They have done an amazing job networking and finding great creative talent for their shows. You can see lots of her pictures
on Facebook and I'm sure Janie will be posting as soon as she the dust settles on her petticoat!
Our friend Kristi of Junkology 101
just made a whirlwind trip out to Petticoats on the Prairie and then Canton for First Monday. Can't wait to see what she has to report about her road trip!
There were so many other really creative ladies that we met that night. Didn't get many pictures, but we got blog addresses and plan to keep up with many of the gals we saw.
Thank you again, Theresa, for hosting the blog party. You have great friends and we were thrilled to get to meet so many of them. Count us in forever!
Suzanne

and

Tracy